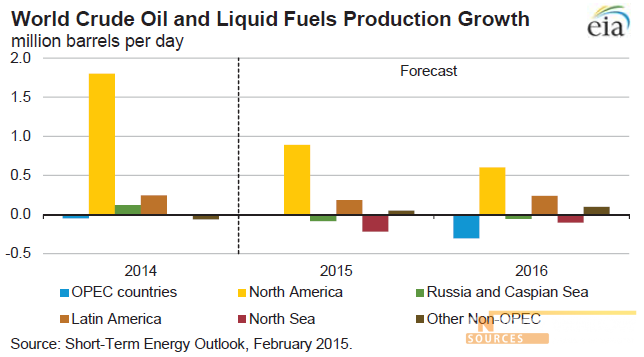 United States Energy Information Administration says global oil consumption will rise by 1.2 million barrels daily this 2015 and 1.3 million barrels per day in 2016 with average estimated at 200,000 barrels daily for the years respectively. They also forecasted higher demand growth as lower oil prices continue its downward slope.
EIA estimates production outside OPEC rising by 800,000 barrels per day in 2015 and 400,000 barrels day in 2016, showing in effect slower production growth in the US and Canada, as well as declining production in Europe and Eurasia.
OPEC crude oil production will rise by 400,000 barrels per day in 2015 and fall by 200,000 barrels per day in 2016. Iraq is expected to be the largest contributor to OPEC production growth in the next two years notwithstanding sporadic crisis.
EIA forecasts that Brent crude oil prices will average $61 barrels in 2015 and $70/bbl in 2016, $1/bbl higher and $5/bbl lower in the previous months.
Total US crude oil production EIA says will decline from June through September from the initial average of 9.3 million barrels per day recorded in March. Projected total crude oil production will on the average stand at 9.2 million barrels per day in both 2015 and 2016, about 40,000 barrels daily and 100,000 barrels daily lower than in the previous months respectively.
The reduction in the crude oil production forecast will be necessitated by a number of factors but not excluding drop in rig counts. Oil rigs declined to the lowest level in almost 5 years as of early May, EIA said.