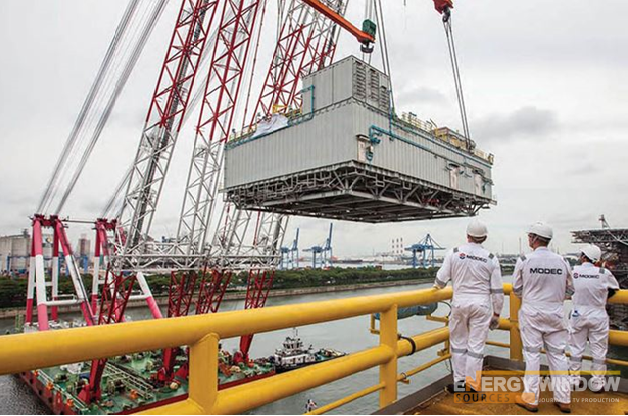 Tullow's FPSO, otherwise referred to as "Prof. John Evans Atta Mills" is billed to arrive the Ghanaian waters early next month to signal completion of the company's deepwater three-field TEN project to materialize first oil come July, or latest August.
The vessel was reported to have left Singapore on Jan. 23, with about 2,000 man hours out of a total 17 million man hours of work to be completed during the voyage to Ghana.
Tullow estimates the overall capex cost for TEN at around $5 billion, excluding the FPSO lease costs. Total capex to first oil will likely be around $4 billion, with the remainder thereafter largely directed at drilling and completion of an additional 13 wells. The company has already confirmed 11 pre-drilled wells. Export of associated gas is anticipated one year after the first oil.
Close to its maiden deepwater Jubilee field, the company predicts average production of roughly 101,000 b/d this year, reflecting the impact of a planned two week FPSO maintenance shutdown next month and reduced water injection capacity during the first half of the year according to them.
In other areas around West Africa and beyond, Tullow is building partnerships. The company is a partner in the Hess-operated Ceiba and Okume fields offshore Equatorial Guinea. A subsea work-over may be completed this spring on an existing Ceiba well. Partners are currently reviewing newly acquired 4D seismic shot over the Okume complex to prepare prospects for infill drilling on Elon and Oveng during 2017.
From offshore Namibia where interpretation of a 3D survey across the PEL30 and PEL37 licenses was revealing prospectivity in shallow water near the Wingat well. To South America where Tullow and its new partner, Noble Energy are reviewing results from a 4,000-sq km (1,544-sq mi) 3D seismic survey shot last September over offshore block 54, with a view to identifying drilling prospects.
Offshore Guyana, the company is assessing prospectivity in the Kanuku license, and the partners have requested an 18-month extension to facilitate acquisition of a new 3D survey.
In Uruguay, various prospects have been identified from a large 3D data set over the company's acreage.
Within the Caribbean Sea, Tullow's 2D seismic survey is under way over the 32,056-sq km (12,377-sq mi) Walton Morant license offshore Jamaica, among others.