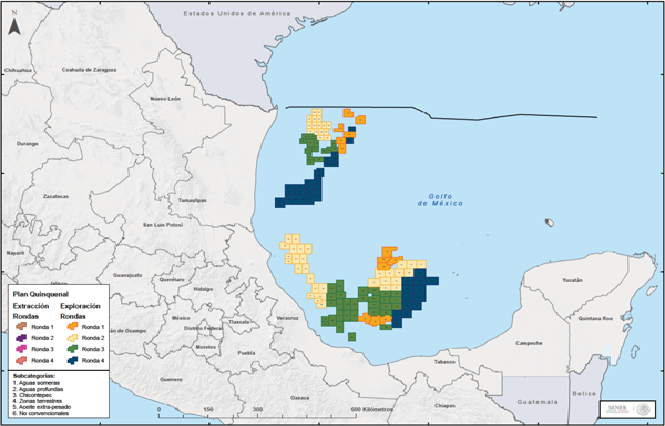 No fewer than 21 companies are said to have signified interest by registering in the Mexico's highly anticipated deepwater bid round billed to take place by the end of the year.
Among the early callers according to reports include ExxonMobil, Chevron, Shell and Total. Others are British Petroleum, BP, Statoil, Repsol, BHP Billiton, Lukoil, Ophir Energy as well as PetroCanaada. Anadarko, Hess, Noble Energy, Murphy Oil, Cobalt, Sierra Oil and Gas, China National Offshore Oil Corp., ONGC Videsh, Petronas, Inpex and Mitsui were not left out, as all of them were said to have submitted proposals to explore the fourth phase of Mexico's auction, set for December 2016.
The bids are for 10 deepwater exploration blocks: six in the Salina basin of the Gulf of Mexico and four in the Mexican side of the Perdido belt confirmed to be located in the northern section, and covers a total of 8250km at water depths ranging from 500-3000m.
As country's Hydrocarbons Commission president Juan Carlos Zepeda Molina explained recently at OTC, the Gulf of Mexico is mostly divided between Mexican and US territory, with 54% in the Mexican jurisdiction, 44% in the US jurisdiction, and the remaining 2% with Cuba.
The Perdido Fold Belt, known geologically to US oil majors according to one special report, is considered the most prized area.
According to the report, the Royal Dutch Shell began production in this considered "world' deepest offshore drilling and production platform said to sit 2450m, about 8000ft of water depth in the US Gulf of Mexico in 2010.  Peak production around this patch is reported to be about 100,000 boe/d, and experts say it is natural to think the Mexican side of Perdido could be as prolific.