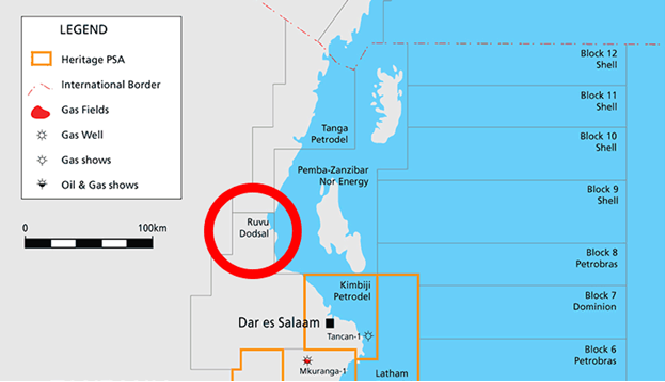 A Dubai-based company known as Dodsal Group has discovered natural gas reserves estimated at 2.7 tcf in the Ruvu Basin near Dar es Salaam, estimated to be the country's largest onshore gas discovery with a value of $8-$11 billion. The company has earmarked $300 million to invest in Tanzania over the coming two years.
The report further said that the state-run Tanzania Petroleum Development Corporation, TPDC, was working alongside Shell, Statoil, ExxonMobil, and Ophir Energy after securing a land deal for a LNG plant on Tanzania's coastline in January. The plant has the capacity to utilize the country's offshore gas reserves when operation begins early 2020.
The country's central bank says the LNG project will be the main driver of the country's transformation into a middle-income nation by 2025, moreso this time that the International Monetary Fund, IMF expects Tanzania to report the 7% growth it achieved in 2015. The country is also expected to probably fill the economic vacuum created by the weak economic conditions in Nigeria and South Africa.
There is also wide-range optimism that Mozambique will nurture political stability to lure more investors to Maputo looking at the necessary strategic policy indicators.
The country's national oil company ENH, South Africa's SacOil Holdings, China Petroleum Pipeline Bureau, and China Petroleum & Technology Development Corporation were all reported to be pushing ahead with a joint-venture to build a $6 billion natural gas pipeline in 2020. The gas pipeline, measuring about 2, 600 km is expected to run from Rovuma Basin in northern Mozambique to South Africa's Gauteng province. Countries like Botswana, Namibia, Zimbabwe, Angola, and Malawi are also expected to benefit from it.
Two-thirds of South Africa's current consumption comes from Mozambique as the latter was also reported to be working out supply deals with India.
Enormous gas resources no doubt but experts warn that Tanzania and Mozambique must quickly court investors to leverage their assets and secure clients in Africa and along the New Silk Road before other LNG exporters cross the finish line.