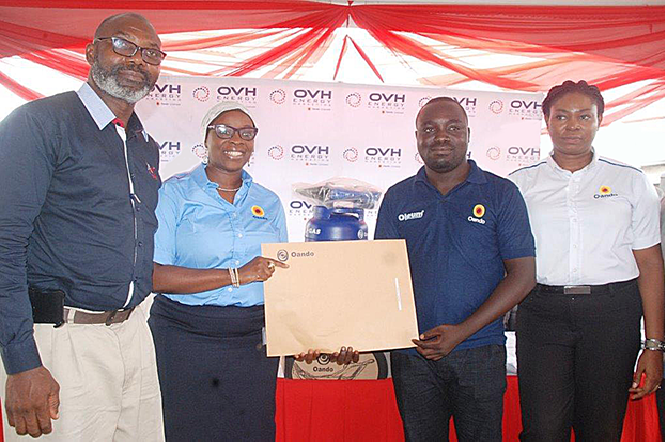 OVH Energy, leader in petroleum products marketing across Nigeria and beyond has trained and graduated over 200 mechanics under its Oleum Academy initiative. The three-month intensive course was aimed at providing professional mechanics with the requisite skills to become automobile technicians.
The participants were trained in diverse areas of learning which included, among others, in-class instruction on subjects comprising auto diagnosis, electromotive and workshop management.
Inaugurated in Lagos with just 100 mechanics, the Oleum academy was conceived by OVH energy as a corporate investment and skills development programme targeted at bridging the skills gap amongst mechanics in the Nigerian auto-repair industry.
The initiative has since grown and was launched nationwide in 2016, with mechanics from Uyo, Abuja and Ibadan coming onboard.
Commenting on the purpose of the training, the Head of Lubes, OVH Energy Marketing Ltd, Lilian Ikokwu said: "Our goal with Oleum academy was to create a well-qualified blue-collar workforce who are able to meet local industry demands, by providing the tools and resources required to remain relevant in the dynamic auto maintenance industry. We are proud of what we have achieved so far."
Ikokwu added "Beyond the training, OVH Energy Marketing also supports graduates from the Oleum Academy in their trade with its Mechanic Oleum Reseller enterprise (M.O.R.E) – a reseller initiative that empowers mechanics to retail Oleum range lubricants at a flexible payment structure and attractive profit margin
On his part, the Chairman, Motor Mechanics & Technician association of Nigeria (MOMTAN), Moruf Arowolo commended OVH Energy Marketing and its continued commitment to up skilling mechanics despite the difficult economic situation. According to him "training of mechanics is an important investment in the skilled labor force and overall economic development of Nigeria".
One of the beneficiaries of the programme, Bankole Bashiru expressed his appreciation of Oleum academy training. According to him, "When we joined the academy we were all simply mechanics and apprentices, like any other person on the street but today I am very proud to say that we are now automobile technicians who have been trained to fix modern cars, and we owe this to OVH Energy".
Fathia Akerele, a female auto technician and graduating student from Oleum Academy 2016 training also stated, "The past three months have been very rewarding, I started my apprenticeship two years ago, but with this training I have been exposed to different tools and learnt how to find out what is really wrong with a vehicle instead of doing trial and error. I feel so prepared and I am more confident because of all I have learnt."
With Oleum Academy, OVH Energy Marketing is striving to achieve the country's Vision 2020 agenda in becoming one of the twenty largest economies in the world. Mrs. Olaposi Williams, acting CEO OVH Energy Marketing noted as much saying: "Vision 2020 can only be achieved if we focus more on areas like human capital development and expertise. Hence, we have designed initiatives such as the Oleum Academy to train mechanics who can confidently exhibit skills that are of world class standards. If we can make world-class products like Oleum, we can also groom world-class talent."
Williams noted that Oleum Academy plans to train 5000 Nigerian mechanics nationwide by 2020.