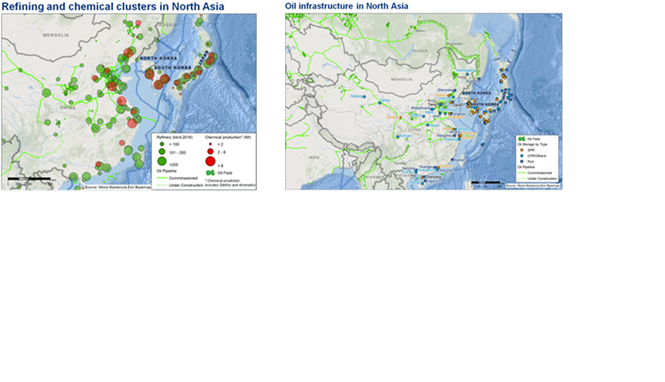 As North Korea continues with its military offensive through consistent threats of missile tests across the Pacific inspite of stringent UN sanctions and US warnings, analysts say severe repercussions to oil supply chains, transport, infrastructure and regional trade across North Asia and beyond are already on the way.
Meanwhile Wood Mackenzie analysts said the potential targets that are likely to bear the brunt of the nuclear onslaught include the oil fields, refinery and chemicals sites, storage, ports and pipeline infrastructure in and around the potentially conflict zone. However adding that the severity of any disruptions would depend upon the area under influence, timing, duration, intensity, and or the nature of the conflict.
The team further said that shipping lanes within the conflict zone are likely to be disrupted with up to about 13 Mb/d (one-third) of global seaborne crude trade, and up to 2 Mb/d of LPG and naphtha bound for North Asia affected.
Refining and chemicals capacities the group said are also bound to be impacted negatively should the current cat and mouse game snowball into a major offensive, as significant refining and petrochemical capacity across North Asia could be at risk from either damaged or pre-emptive safety shut-ins. The region represents, Energy Window International learnt, about 50 percent, 17 Mb/d of Asia's refining capacity and approximately 60-65 Mt of capacity in both olefins (ethylene and propylene), and aromatics.
Again, around 55 percent, 2.2 Mb/d of China's crude oil production, says Woods analysts, is near the conflict zone and therefore bound to be disrupted. Equally worrisome the team said is that up to 1.4 Mb/d of Russian crude (ESPO) export to North Asia could be affected, with possible implications for upstream production in Russia, with a further loss in supply if infrastructure in the wider region were to be disrupted.
On oil price, the group foresees a reduction in crude imports that would eventually affect the Middle East producers and Russia and by and large impact price. Refineries within the region are also bound to be affected significantly, though the team maintains that their levels of impact would be determined by the severity of the conflict as a geopolitical risk premium could still counter this downward price pressure, they said.
The group noted that because the North Asia is a major exporter of transport fuels (gasoline/diesel/jet fuel) to Southeast Asia, Australia and, to a lesser extent, Europe and the US, a loss of exports of transport fuels from North Asia would have a ripple effect on the international market and likely lead to higher product cracks for these products and higher refinery margins.
Potential loss of petrochemical feedstock is also imminent says Woods because domestic supply of LPG and naphtha could be reduced if there was disruption to refineries as well as imports resulting from shipping distortions. This is expected to have a major impact because of the bulk of the Japanese and South Korean petrochemical exports flow to China, which processes and re-exports derivatives/finished products to the rest of the world. It is trite knowledge, says Woods, that any loss of exports to China only portends great danger to the petrochemicals market worldwide.
According to this news source, the potential area of influence either directly or indirectly are Japan, South Korea, North Korea and the Chinese provinces close to North Korea and South Korea