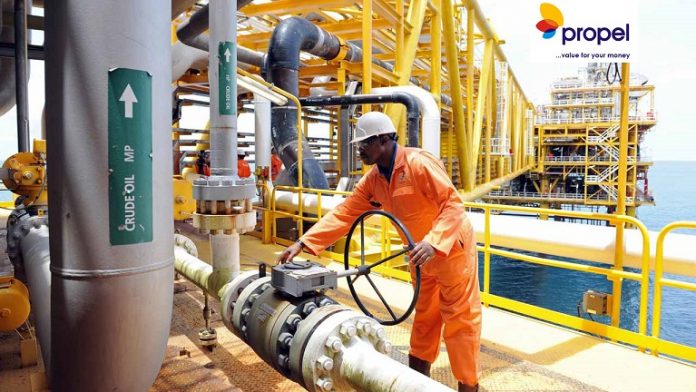 Propetrol Limited, one of Nigeria's newest and consistent downstream players has added another petrol service station, making it four in the ever-busy and commercial city of Port-Harcourt, Rivers State, South-South Nigeria. This one is located at the popular and strategically-important Trans Amadi Industrial Layout Road in Rumubiakani, Port Harcourt. It also has other nineteen retail outlets spread across Lagos, Ondo, Cross River, and Edo States.
The Chief Executive Officer of the company Mr. Harry Ebohon in a press statement said the launch of another Propel Service Station in Port Harcourt was a strategic step taken to enable the brand expand its excellent service delivery and product quality to more customers in the state.
"With the new retail outlet at Trans Amadi, we would be fueling the trust of more customers in Rivers State as we have done with thousands of customers from our other existing stations, since establishing our footsteps in the state. The people of Port Harcourt deserve to be served right, with the assurance that what they buy is what they get", he said.
He added: "We plan to continue to expand our retail business, increase our bulk supply customer base and redefine the Nigerian bunkering industry. Our heavy retail presence in the South-South and the South-West is strategic. Although, the efficiency and service delivery gaps in these markets were huge when we set out, we have done well in correcting these anomalies and are now shifting our focus to the northern market in the nearest future. We hope our value proposition and core values as an organization will continue to provide us the foothold we need to succeed in the markets and industry segments where we offer our goods and services."
Propetrol which has been in business for over 15 years he said, started off as a haulage company, moving products for the oil majors. However, having observed the inefficiencies in the retail market, made a bold decision to make a foray in the petroleum products retail marketing space to contribute to bridging the fuel supply gap in the Nigerian energy market.
He maintained that over the years, the company has expanded into other sectors of the downstream industry and is now a market leader in the maritime and bunkering service industry, expressing optimism in the company's quest dominance across the West African coast even in line with the internationally best practices.
"Propetrol Limited is committed to sound Environmental, Health, Safety, Security and Quality (EHSSQ) practices in all its operations. Its focus is on ensuring that the lowest incidence rate is sustained in its operations for both the employees and the customers."