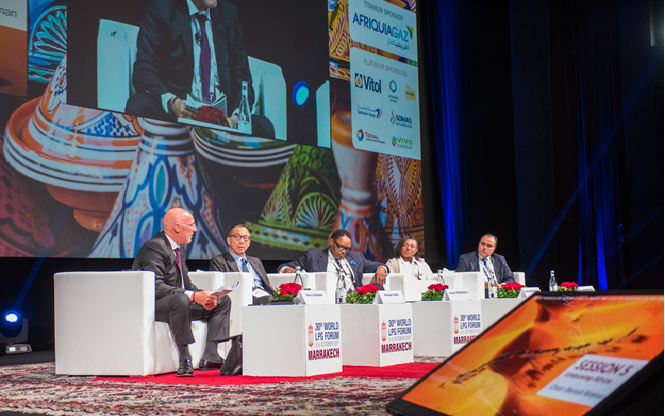 Morocco and Nigeria have been described as two regions with great potential for liquefied petroleum gas, LPG growth, however with the right policies, transparent governance, stable and conducive political environment.
This was one of the highlights of the two and half day sessions as well as a roundtable panel discussion (Fuelling New Markets) that covered a wide range of topics at the just concluded World LPG forum in Marrakech.
The panel also discussed existing potential in the developed, mature markets such as the US which in the understanding of the panelists were now dealing with gradually decreasing consumption. "Ten years ago", says the Philip Shaw-led session which focused on the future and what the LPG industry might look like some ten years from now, "the US was a net importer of LPG and is now the world's largest exporter."
Talking about Health, Safety and Environment, HSE, Panagiotis Haritopoulos who chaired one of the conference sessions reemphasized the importance of safety, referring to what they deemed a new concept of "chronic unease", emphasizing yet the need for critical management systems in the environments of change, development and growth especially in Africa.
Another conference session took a constructive swipe from LPG for power generation in Myanmar, to ground-breaking communications in Brazil, to agricultural applications in the US, Autogas in Morocco and a whole suite innovative programmes that have unleashed unprecedented growth in India.
The 'Harnessing Diversity' session studied aspects of diversity in the LPG industry, while the final session of the day 'Unlocking Africa' was dedicated to looking at the latent potential that exists for growth in Africa. With discussions apparently covering market conditions and changes in Nigeria, Cameroon and Morocco, the session sought to understand what were likely to be the bottlenecks on ramping up strong growth in Africa.
As for the World LPG Association highlights, this year saw the end of Mr. Yağız Eyüboğlu's two year tenure as President of the WLPGA and the new WLPGA President, Mr. Pedro Jorge, was welcomed during the WLPGA Annual General Assembly, commending Mr. Eyüboğlu's commitment and leadership. Mr. Jorge, CEO of Ultragaz in Brazil, was also heralded as the new WLPGA President that took immediate effect as the industry welcomed him with so much optimism for growth and more innovations as he pilots the affairs of the association.
Ms Paige O'Dell was also announced as the incoming Chair of the Women in LPG Global Network (WINLPG) taking over the role of Chair of WINLPG from 1st January 2018. Ms Paige O'Dell is Vice President – Operations of AmeriGas Propane and replaces Ms Nikki Brown who's said to have been the Chair of the network and aided its success since it was set up two years ago.
More than 72 countries were in attendance, with 1,500 total participants. The top five countries represented were Morocco, Italy, France, USA and India.