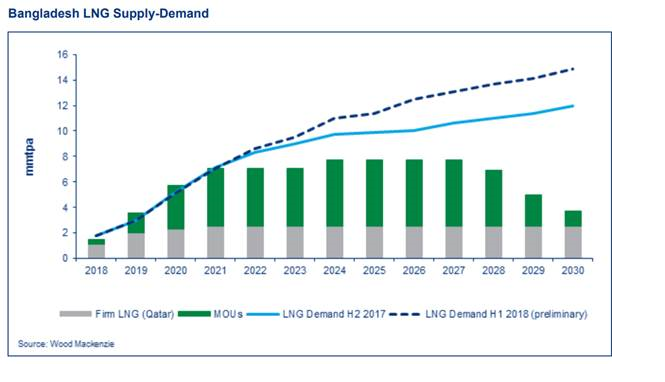 Excelerate Energy's Floating Storage and Regasification Unit (FSRU) Excellence has arrived Bangladesh's Moheshkhali Port, April 23rd, bringing with it a commissioning cargo from Qatar.
The project which according to Wood Mackenzie's director of gas and LNG research Nicholas Browne was co-developed by Petrobangla, Excelerate Energy and the IFC  gulped about US$180 million to cover the associated infrastructure.
Noting that Bangladesh suffers from two crippling energy shortages which include electricity and gas. Grid based power shortages result in load shedding and expensive diesel generation. Meanwhile, residential, CNG, industrial and power users all struggle to access as much gas as required, while domestic gas has already started to decline. Pipeline pressure is frequently very low, all of these combine to impact economic growth. Adding that the introduction of LNG into the fuel mix therefore was a critical step in overcoming these challenges. Again Bangladesh has a non-investment grade credit rating, so international financing agency support was crucial to enable the project to go ahead.
The FSRU has an annual capacity of 3.8 MT. Excelerate Energy will operate the terminal for 15 years receiving a fee of US$90 million per year after which ownership will go to Petrobangla. An onshore gas pipeline connects the FSRU to the main demand centre in Chittagong, the second largest city in Bangladesh, from where it will supply existing power plants currently running short of gas.
LNG will be delivered under a 15 year SPA between QatarGas and Rupantarita Prakritik Gas Company Limited (RPGCL). RPGCL is a Petrobangla subsidiary with a government mandate to import and market LNG. Under the contract, QatarGas will supply 1.8 mmtpa of LNG between 2018 and 2022 and 2.5 mmtpa of LNG between 2023 and 2032. Woods also said the contract pricing formula was 12.65% Brent (three-month average) plus 0.50 cents on a DES basis, adding that FSRUs, new LNG markets and Qatari LNG seem to go hand in hand, with Qatar also reported to have supplied the first cargoes via FSRU to Jordan and Pakistan.
This is just the first step of a significant ramp up of LNG in Bangladesh, the report stated, as the country's second terminal is expected to start up in 2019. It is also a 3.8 mmtpa Excelerate FSRU which will be located at Moheshkhali to supply a new build, Summit Power, CCGT, this the report adds is beyond several other projects and LNG contracts that seem to be gaining momentum. In December 2017, financing was approved for a terminal and a 750 MW power plant by Reliance Energy. In January 2018, Bangladesh Power Development Board (BPDB) signed a MoU with Pertamina to develop 1.4 GW of new gas-fired capacity, together with a dedicated FSRU and related LNG supply. Then in March 2018, Summit Power, Mitsubishi and Diamond Gas agreed on an MoU to construct a terminal and 2.4 GW of power capacity. Meanwhile PetroBangla has agreed several supply MoUs, including with AOT, Gunvor, Oman LNG and Pertamina.
For Wood's analyst, the longer-term fundamentals for LNG in Bangladesh look sound, for efficient CCGT capacity is set to grow significantly, therefore increasing the forecast for LNG demand to reflect this.
Domestic gas production is expected to decline by over 25% by 2025 so LNG demand to rise to 11 MT by 2025 and there is still market available to suppliers reports Wood's Browne. Key risks to LNG demand as he said would come from concerns around the affordability of an increasingly LNG based power sector which will ultimately lead the government to renew its push to build more coal capacity.