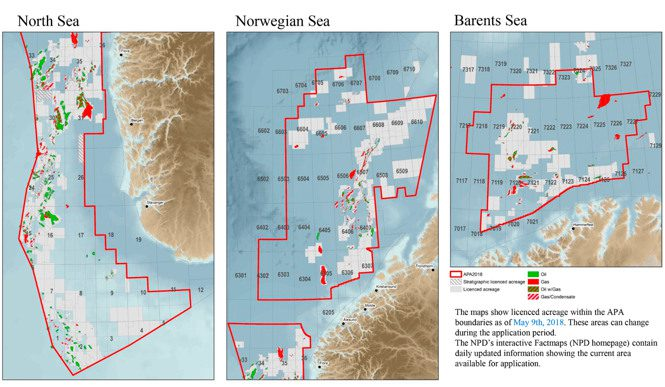 Norway's Ministry of Petroleum & Energy has released the results of its Awards in APA, (Pre-defined Areas) round with the local players leading the table, with Wood Mackenzie's Jamie Thompson, Europe's upstream, saying that it was more about commitments than winning. "It's undoubtedly positive to see so many license awards and active companies in this year's APA. But the proof is in the work commitments, and those left something to be desired, with the number of wells down from five to three on last year."
Thompson was quoted to have added: "Of the three commitment wells, Aker BP operates two and ConocoPhillips one. Two lie on adjacent licenses west of Aerfugl, in the gas-prone area of the Norwegian Sea, while the second Aker BP well is near its proposed NOAKA development. The Norwegian mid-cap may be looking to firm up resources in the area to aid in the commerciality of a split development between itself and Equinor, who is pushing ahead with concept select for the separate Krafla-Askja Area in Q1 this year.
"Explorer Wellesley Petroleum too has been active in this APA, participating in both of Aker BP's commitment wells and two of the most aggressive G&G programmes."
Expressing surprise he said: "Local players are certainly leading the way once more. The usual suspects Equinor, Aker BP, and Lundin dominate operatorships in the Barents. But perhaps more surprisingly, DNO — hot off the back of its Faroe Petroleum acquisition — makes headway with 26 new licenses, seven of which are operated.
Speaking about one of the locals he said: "Growth through the drill bit is central to the growth plans of DNO – Norway's newest E&P, and it's not shy about plunging in to the Barents with wells at Pointer/Setter and Korpfjell Deep both set to complete in 2019. These new licenses show it's committed to the Barents beyond this year's campaign.
"Of the commitment wells, we could see some spudding before year-end, which would be a quick turnaround and could further add to what's already expected to be a bumper year for Norwegian exploration drilling."