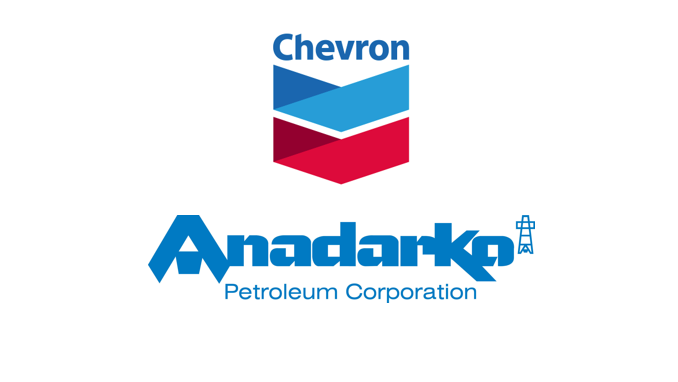 Chevron Corporation says it would not offer a counterproposal to Occidental Petroleum's rival bid to acquire Anadarko Petroleum.
Anadarko a couple of days ago said it had received an offer from Occidental that was superior to a previously-arranged deal with Chevron.
Chevron said it would allow the four-day match period to expire, and that it anticipated that Anadarko would terminate the merger agreement.
Anadarko would be required upon termination of the agreement to pay Chevron a termination fee of US$1 billion.
Greig Aitken of Wood Mackenzie has this to say, "Anadarko represented a fantastic opportunity for Chevron, but it wasn't crucial in a portfolio sense.
"Chevron wields an enviable growth profile among the Majors. It is already a leader in US tight oil, underpinned by its low-royalty, contiguous acreage position throughout the Permian.
"We thought Chevron had room to up its offer without destroying value – and in oil and gas M&A, that's generally an achievement for any buyer. But it looks like Chevron wasn't content with just breaking even."
He added: "The bidding war it found itself in was unexpected, and eroded the value creation opportunity that prompted Chevron to move for Anadarko's portfolio originally.
"Chevron can afford to be selective in its business development. Pulling out sends a very strong, very positive message on capital discipline.
"We expect Chevron will remain on the lookout for good value business development opportunities throughout the US, continuing to play its strengths as the US tight oil super-major."
Mr Aitken had added that Chevron's walking away may also prompt some soul-searching among Occidental investors.
"The fact that the deal was too rich for Chevron may raise concerns about Occidental's ability to create value. No one wants buyers' remorse in a US$55 billion plus purchase," he said.
"Occidental may still face a fight at its Annual General Meeting from some investors opposed to the deal.
"Balance sheet pressure and expensive financing is now a reality for Occidental; it will have to move fast to complete its divestment plan and integrate the newly-acquired business."