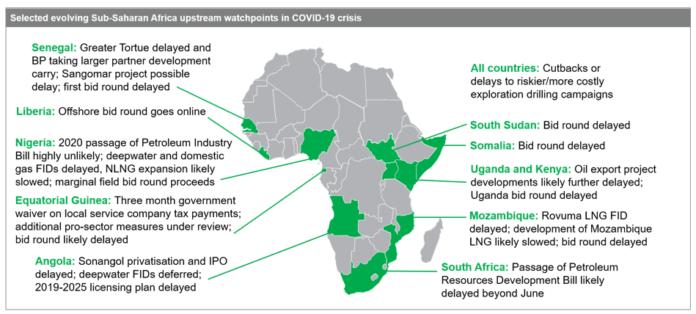 It is truly a very tough and rough time for of and gas companies and economies worldwide but more specifically in Africa at the moment. Recent analysis from Rystad Energy, Energy Window International gathered indicated that over 50% of global upstream licensing rounds for 2020 and possibly 2021 was already on the way to suffer either deferment or outright cancellation, to reflect the dual effect of COVID-19 and oil price volatility, and West Africa of course is not left out. For a good number of planned offshore and onshore licensing rounds billed for 2020 had already been deferred with all reasons pointing at COVID-19 and current low oil price. Analysts however insist that apart from Covid-19, Bid Rounds in Africa have either been deferred or cancelled one time or the other. "So deferments and cancellations of bid exercises cannot hold Covid pandemic responsible. In some places there are infrastructure issues, and policy matters in others."
The National Oil and Gas Agency of Angola, ANPG it would be recalled awarded three deepwater concessions in the Namibe basin in early 2020 as part of the 2019 Licensing Round, with another scheduled for 2021, all were intended to help the country maintain production above 1.4 million barrels per day. Concessions to be awarded through Public Tender in 2019 were Blocks 11, 12, 13, 27, 28, 29, 41, 42 and 43 of the Namibe Basin together with Block 10 of the Benguela Basin. And under Direct Negotiation were Blocks 6, 30, 44, 45, 46 and 47 with negotiations expected to be concluded in the same year. Both Restricted Public Tender and Direct Negotiation were expected to last over a period of 7 years, starting in 2019 to terminate in 2025.
Blocks on Offer in Offshore Angola Licensing Rounds
On offer under Public Tender in 2020 were Blocks CON1, CON5, and CON6 within the Onshore Lower Congo Basin together with Blocks KON5, KON6, KON8, KON9, KON17 and KON20 of the Onshore Kwanza (Cuanza).
In 2021 were the following blocks under Restricted Public Tender namely Blocks 7, 8, 9, 16, 33, 34 together with open parts of Blocks 31 and 32. They were formerly relinquished and abandoned. For Public Tender in 2022 were Onshore Blocks CON2, CON3, CON7, KON1, KON3, KNO10, KNO13, KON14, KON15 and KON19. Bidding rounds scheduled in 2023 comprised the Etosha, Okovango, Cassange and Namibe Basins. Bidding rounds were to be proceeded by the promotion of campaigns to collect geological and geophysical data and, in 2022, the division of the basins into blocks. In 2025 were these offers under Restricted Public Tender namely Blocks 22, 24, 25, 26, 30, 35, 36, 37, 38 and 39.
Speaking as part of Côte d'Ivoire's National Showcase at Africa Oil Week 2019, Ambroise Niamien, (Special Advisor Ministry of Petroleum, Energy and Renewable Energy) announced the country's plans for a mini-round to licence 13 offshore blocks, starting with CI 102 and CI 503 off Abidjan, and CI 800, 801, 802, which sit near Ghana's maritime border.
Gabon's 12th Offshore Licensing Round was launched at AOW 2019 with 12 shallow water and 23 deepwater blocks. The closing date was pushed back by 3 months to 30 April 2020, unfortunately the heat of the pandemic, apparently making continuation of the exercise practically impossible.
The Liberia 2020 Licensing Round launched before the escalation of the COVID-19 featured 9 offshore blocks on offer namely LB-25 to LB-33) in the Harper Basin, regarded as one of the last 'unexplored and undrilled' regions offshore West Africa, with the next offshore licensing round actually billed to take place in April 2020 as announced by the Liberia Petroleum Regulatory Authority. Dedicated for local companies and planned to be conducted online on April 10 2020, was in compliance with the Liberia Petroleum Law that mandates that 5% of the shares be reserved for companies belonging to Liberian citizens. The country has 33 offshore blocks, with 24 blocks in the Liberia Basin and nine blocks in the Harper Basin. The licensing round was centered on the nine blocks in the Harper Basin. The pre-qualification round was scheduled to begin on 10 April, with the final billed for April 15th but was eventually moved to a webinar because of COVID-19.
Mozambique could not provide any details of its 6th licensing round said to have been announced by Carlos Zacarias at the Africa Oil Week 2019 to take place early 2020. The Bid Round had long been awaited. However, analysts have always argued that the country has been battling with infrastructure deficit and seems to be stranded. Insisting that Mozambique's bid exercise delay apparently has nothing to do with COVID-19.
The 2020 license round in Senegal was announced at AOW 2019, officially launched at the end of January with an initial application deadline of 31 July, but now extended to 30th September 2020 due to COVID-19. The round offers 12 offshore blocks in the MSGBC Basin and PETROSEN partnered with TGS, PGS and GeoPartners to deliver over 14,000km of 2D & 10,000km² of 3D data.
The planned Bid Round for 56 marginal fields as announced by Nigeria's Minister of State for Petroleum Resources Timipre Sylva to take place early in the year is also deferred with hands pointing at Covid-19. The planned bid exercise to be called by NNPC was intended to push the country's production to three million BPD levels by 2023. Deepwater exploration throughout Nigerian territory needs to be escalated if NNPC wants to achieve its goal, according to NNPC Group MD Mele Kyari. "Before the end of 2020 or next year, God willing, I believe there will be some form of bid round in that space," Kyari was quoted to have said.
Earlier in November 2019, an amendment to Nigerian hydrocarbons legislation was signed into law, altering the fiscal terms for existing production sharing contracts between foreign oil and gas companies and NNPC. This increased the government's share of revenue from oil produced in deepwater fields. Some critics have however argued this may deter further international investment. Negotiations between the Nigerian government and international oil companies are still ongoing, and new date for the licensing round to be announced once these talks were concluded. The country seems to be worst hit by COVID-19, looking at the country's over dependence on oil revenue to run its economy, exacerbated by the profligate lifestyles of those in authority.
In South Sudan, plans for the nation's first licensing round, which was due to be launched in March, had been put on hold indefinitely. The round intended to offer 14 blocks in the Northern oil fields. Awow Daniel Chuang (Undersecretary, Ministry of Petroleum) said, "We are going to defer it a bit, but the plans are still there for us to attract new investors to South Sudan."
The Ministry of Energy and Mineral Development of Uganda also extended the deadline for pre-qualification applications for the 2nd Licensing Round to 30 September 2020. There are 5 blocks on offer. They are Ngaji, Turaco, Kasuruban, Omuka and Avivi, all located within the Albertine region. But analysts have argued that the deferments and cancellations portend great trouble for the industry in the post COVID19 era.
Ejekwu