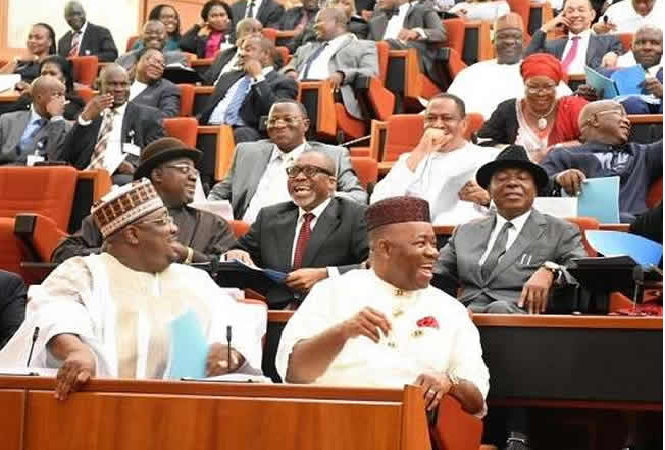 It is more than sixty years since oil exploration and production activities began in commercial quantity in Nigeria, with the entire volume of this operation coming from the mangrove swamp of the Niger Delta., said to be a contiguous network of meandering channels and tributaries which form the estuaries of the River Niger into the Atlantic Ocean. It has an area land mass of about 70, 000 square kilometers, and also enfolds nine of the 36 States in Nigeria, houses about 1600 communities made up of about 45 million people, (Nigerian Population Commission 2006), and all speaking about 250 languages. This mangrove is in effect the largest in Africa, and counts among the first three in the world. This is for the sake of emphasis.
Many people are still wondering, and curious too, to know at what point in history Nigeria lost it in its quest and struggle for national unity, socioeconomic development and political stability.
Nigeria was usually called the "Giant of Africa" by many among whom were foreigners. The reasons of course were not far-fetched. First, it is until now the most populous, and arguably perhaps the biggest in terms of geographical spread, among African countries. It has huge reserves of oil and gas estimated to be in the region of 37 billion barrels in oil, and 188 trillion cubic feet of gas. And of Africa's reserve of about 60 billion barrels, she accounts for about 35 per cent. Close to 70 per cent of her GDP comes from oil. This is the perspective of oil mineral in the oil-rich Niger Delta region and the geographical expression called Nigeria.
Among oil producers worldwide, she has been able to maintain its tenth position as a producing country, in global ranking. In terms of bilateral relationships and diplomacy, she has never been a pushover except maybe in the recent time, due largely to the dictatorial, hence undemocratic pattern of governance.
The first oil exploration license began with Shell BP, then Shell D'Archy, in 1938, but the first major commercial reserve was recorded in 1956 at Oloibiri in present day Bayelsa State. This, for emphasis, presupposes that oil flow through the well taps had begun in Nigeria even prior to her independence in 1960. "Apparently it was supposed to be a new dawn" says a local chief.
Very little or nothing was known of oil by the local authorities and the would-be resource control managers at the time, an ample opportunity, to say it unequivocally, for the visitors, who were also better informed, and thus, dictated the pace of business. That first and successful oil discovery, reported to be in the neighborhood of 60, 000 barrels per day, approximately 1.2 percent of the country's foreign exchange earnings based on quota production then, did not only trigger movement of other multinational oil corporations into Nigeria in their numbers to share from the cake, it also launched Nigeria into the global arena as a crude oil exporter. The entry, – also a scramble if you like was, in my own view, an eye opener for the Nigerian stakeholders who saw what it meant to encourage increase in the search for oil, rather than, as they may have thought, toil for hours or days in the farms for comparatively little gains or returns for time and efforts. According to available data, the revenue to Nigeria from the sale of that relatively small volume of crude oil was mouthwatering moreso for a primordial society whose people never knew anything else but agriculture. It was the driver of the country's economy at the time, promoting from different regional axis inter-trade relationship, geared toward national economic development and sustainability.
This is common knowledge, and sadly too I must say, that the most unfortunate and provocative policy of the Nigerian government over time was the idea of relying heavily on hydrocarbon as a source of its foreign exchange earnings.
My father would always tell me that a mother does not give a child the quantity of food that he will eventually turn around to ask the mother whose portion. But this clearly describes the attitude of the few Nigerian administrators who presided over the oil exploration deals, on behalf of Nigerians, with the oil merchants by whose knowledge and efforts the first thousands of barrels of oil, and first millions of dollars in revenue to Nigeria from oil became a fait accompli. A Nigerian Head of State was even alleged to have openly confessed that Nigeria has got so much money she doesn't know what to do with it. Do not bother to ask whether this is true or not. Has it not been more than sixty years, if I may ask, of intensive oil and gas exploration and exploitation in the Niger Delta, and years of budget planning using proceeds from crude oil sales? There is no gainsaying the fact that crude oil, which is known and adjudged "sweet" did not only become the raison d'être for the reality called Nigeria, it also became the feed stock of Nigeria's economic extravagance, fiscal recklessness and sociopolitical malady, fueling across space and spectrum unprecedented level of economic underdevelopment and sociopolitical fragmentation.
"That should be expected of course of a petrostate economy like Nigeria", says a renowned economist. Its attributes include government's dependence on export of oil and natural gas, (for it must be an oil and gas country), to generate its income, over concentration of economic and political power in the hands of a few, which also weakens political and legal institutions, and idolizes corruption.
That the benefits from several oil windfalls in Nigeria fell short of expectations were therefore crystal clear. Than help improve lives through infrastructure development and wealth creation, oil revenue instead became a weapon of economic demobilization and mass impoverishment, while the profligate politicians bask in the euphoria of economic plenty and aggrandizement.
It will be unnecessary to argue at this juncture that the petro-dollar from the boom of the 70s which took a bell plunge in the early 80s and then rose again till it peaked in 2004 was not enough to swirl our economy and perpetuate it on a geometrically progressive economic advancement curve.
If this perhaps were done, the question of capacity engagement of our teeming youth population would have been addressed. If this were done, the problem of infrastructural development would not have been an issue for discussion as it is at the moment. If this were done, the bitter question of very low per capita energy consumption would have long been over. If this were done the problem of poverty and the consequent dilemma of brain-drain and wide-spread criminality would have been resolved in the distant past. If this were done, the refineries won't have gone comatose perpetually, and Nigeria may not have resorted to begging China for money and petrol as it is reported today.
If this were done, the challenges of our "nascent" democracy would have been rested and Nigeria, the so-called giant of Africa, and the most populous "Black Nation" in the world would also have been the glory, dignity and pride of Africa and of the black race. The cartload of to-do-list, and which by inadvertence were not done, brought us to this point of speculation and wish-fulfillment. For close to 70 years of mouth-watering revenue from oil and gas, politicians have failed to leverage our inflows to build a strong and diversified economy. Sixty years after independence, we are yet running a mono-product economy where oil contributes 90% of our national wealth and close to 65% of our GDP.
It is common knowledge that the issue of development is generic to the Nigerian situation, unfortunately. Since independence, the issue has been a recurrent debate, both at home and among Nigerians abroad. And many have not only challenged the need for the gift of hydrocarbons, they have also raised unanswered questions as to the avowed dividends of self-government which the protagonists of Nigeria's "Political Emancipation" promised prior, and on the assumption of independence in 1960. From issues of unjust actions and trial solutions by the new-breed politicians referred to as leaders, to violent reactions and agitations by regions and citizens who have been shut out from the affairs and business of their own and God-gift natural endowments, for more than sixty years of massive oil and gas exploration, deforestation and suffocation. "The clamour for change" they say "comes with a prize."
On the literary front, a corpus of literature has been produced, with the popular Nigeria artists pouring out criticisms on what they have branded as betrayal of the polity by the home-breed, septua-octogenarian politicians. Late Professor Chinua Achebe for instance had, in his Things Fall Apart, Arrow of God, and No Longer At Ease, taken a constructive swipe on the dislocations of the integral popular psyche through correctable self limitations, character-trait. The idiosyncrasies and character dislodgements also remain the projections of Anthills of the Savannah. These have turned the creative and inimitable social construct into a cauldron of corruption, and societal paralysis. The question therefore is how much time longer before we come to the reality that Nigeria is groaning under the weight of bad governance and political inefficiency? How much time longer?
There has been so much hype about Nigeria's Petroleum Industry Bill which has been on the front burner for about 20 years. It was first introduced in 2000 and again, first heard as Draft at the National Assembly in 2008, and then as Government Memo in 2009. In 2012, it was submitted also as a Draft before the Federal Executive Council, FEC, and in 2018, it was broken into four parts with their acronyms as PIFB, PIAB, PHCB, and PIGB, and whatsoever they in effect stand for should be an interesting discussion for another day.
The bill according to industry stakeholders, 'interest groups', and a couple of industry analysts, is an end in itself to numerous challenges holding down sector development and economic advancement. It provides, according to them, a radical departure from the past norms, which will also accelerate economic growth and sustainable development, according to Professor Wumi Iladare and his co-analysts. This is good news for a country of about two hundred million people with the greater percentage of its working population groaning in pains of joblessness and hopelessness, resulting from maladministration and the get-rich-quick syndrome of the dubious political class.
It could be argued, and rightly too, that though the existing laws regulating the Nigerian oil and gas sector may truly have become anachronistic to be able to give the needed impetus for better and more profitable oil and gas operations, the challenge of Machiavellianism and flamboyant governance system is much more worrisome.
While contending that Nigeria's contemporary industry outlook is like a driver moving against the traffic, Professor Iladare said balancing States and Nigeria's yearly budgets with oil proceeds should not be the ultimate priority. He noted that Nigeria generated almost N5 trillion from PPT and Royalties in 2019 with only about N600 Billion as Derivation Fund to OPS. Adding that while the global value for oil and gas production in 2017 for instance was around US$2.5 trillion, there were no clearly defined rules for sharing crude oil values between those entitled to it. He maintained that corruption has taken firm grip of the entire political and economic space of Nigeria, "so it won't just be about passing PIB into law, it's about holding tenaciously, and executing promptly the letters and provisions of the bill-made-law. And it must be seen to have been scrutinized and passed by an assembly of independent 'Law Makers' who will not be traders and traitors, but an assembly of trusted representatives, possessing the spirit and letters of legislative matters", says a UK-based political analyst.
Meanwhile, Nigeria was reported to have lost opportunities valued at $150 billion and more in the last ten years, for failure of government at the center to undertake far-reaching reforms in the petroleum industry, says Israel Aye, an energy consultant and Senior Partner, Energy and Commercial Contracts, Primera Africa Legal. He stated this while presenting a paper in Lagos. He disclosed that the current structure of the Nigerian petroleum was not sustainable, and emphasized the need for governance of the industry to improve.
Ejekwu Chidiebere, Energy Window International