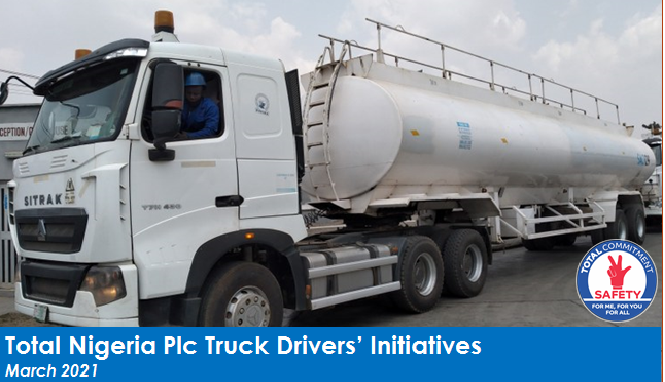 "Safety is of the Lord" is the usual prayer  travelers say each time they are embarking on a journey, or when issues of safety are, or seem to have been compromised. This is not peculiar to passengers alone, but also to drivers, of both light, as well as articulated vehicles like petrol tankers, some of whom also cannot drive without taking alcohol. Sometimes also, and upon close observation, one could possibly notice that it is some of those vehicles and trucks with the bold inscriptions, "Safety is of the Lord" that most of the time violate traffic rules which occasions result into disasters.  As one of the major causes of road accidents, alcohol triggers over-confidence, enables poor judgment, and consequently, recklessness which also claims lives, and leaves families broken-hearted and despondent, year-on-year.
It is against this backdrop of serious concerns about the state of drivers and trucks that convey petroleum products on the Nigerian roads that Total Nigeria PLC, TNPLC, has not only engaged the Nigerian media, but has also highlighted how its Truck Drivers' Initiative was improving road safety in Nigeria, through the company's continuous training and audits.
At the parley held online, Thursday, 18th March 2021, the company gave very clear graphics of how it had conducted 2,181 Truck driver trainings, 2,740 truck audits, held at its training facility in Ibadan, Oyo State between 2017 and 2020, an encouragement to other players who also conducted 2,149 truck audits between 2018 and 2020.
The company noted that the effort also resulted in zero fatalities and severe accidents, zero lost time injury and zero spill in cubic metres, amongst Total Nigeria PLC drivers since 2017, as the training has ensured "Improved defensive driving skills…" Others include reduction in road accidents resulting from drivers' behavioral attitudes, truck breakdown, as well as other critical factors.
In providing further insight into the engagement, the Executive General Manager, Total Country Services, Bunmi Popoola-Mord, noted that one of the areas that the company has contributed enormously was in ensuring there were proper road safety measures, emphasizing the need for enlightenment to be able to galvanize the Nigerian stakeholders for greater improvement.
Fielding questions on the Truck Drivers Initiative, the GM, HSEQ Mr. Muhyideen Nuradeen, maintained that though the company is in business to make profit, it's also concerned, and even more with safety of lives; making roads as safe as possible so that drivers return safely to their families and loved ones each business day. The company also said that it has been working the Federal Road Safety Corps, FRSC, Nigerian National Petroleum Corporation, NNPC, Major Oil Marketers Association of Nigeria, MOMAN, as well as the National Association of Road Transport Owners, NARTO to strengthen the initiative.
In his remarks, the Country Communication Manager, Dr Charles Ebereonwu who also moderated the session expressed optimism that the initiative was ready to churn out mass of trained and professional drivers, as well as certified and quality trucks, geared towards the elimination of all forms of road hazards associated with trucking petroleum products.
Also present at the online media briefing were the GM Operations TNPLC, Mr Rabiu Abdulmutalib and other managers of the company.
The French oil major – Total came into Nigeria with its activities that span across all the oil and gas value chain – upstream, midstream and the downstream subsector of the oil and gas industry of Nigeria. One of its major commitments, according to its official website, was to contribute resources toward improving Nigeria's energy condition aimed at meeting the county's energy ambition. And they are not taking any critical requirement for attaining this ambitious goal for granted,
"We set up our priority and stick to them", says Barry, the company's Managing Director, doesn't really seem to look like one of those humbugs of a typical Nigerian politician, when one takes a critical look at the energy and momentum with which they have revolutionized and sustained their downstream activities in the recent time.