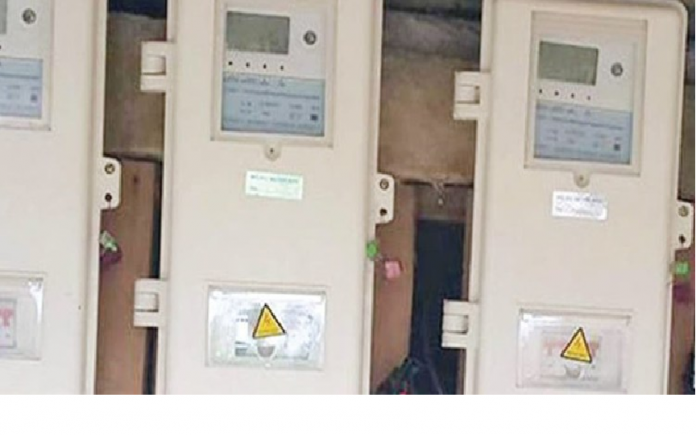 The Meter Asset Providers, MAPs, being an assembly of licensed agents for the procurement of electricity meters, had at their meeting held recently at Sheraton Hotel Lagos said that fixed meter pricing, depreciating foreign exchange rates, unavailability of foreign exchange from CBN, Customs clearing conditions, implementation of the 35 per cent levy waiver granted by the administration under Buhari on fully built prepaid meters, as well as improvement on the industry structure for accelerated prepaid meter deployment are key challenges confronting actualization of comprehensive meter installation across Nigeria. They also pointed fingers at Covid-19 pandemic, whose attendant disruptions of the global supply chain no doubt resulted in increased international prices for raw materials, which also according to them did not exclude components required in the manufacture and assembly of prepaid meters.
While dedicating almost a page extolling and exalting Mohammadu Buhari, the Nigerian Electricity Regulation Commission, NERC among other stakeholders, for their "various interventions to close the metering gap", as they put it, also resolved amongst others as follows:
1. That an upward review of the current price of prepaid meter by NERC be carried out in view of rising inflation, continued upward movement of foreign exchange rates, associated increases in customs costs, increase in container freight costs, and the disruptions in the international supply chain, leading to a global increase in the prices of raw materials and components for the manufacture of prepaid meters. Noting that a downward movement in foreign exchange rates and other cost factors are the only conditions to precipitate any corresponding downward review of meter prices;
2. That the Central Bank of Nigeria, CBN guarantees access to foreign exchange to Local Meter Manufacturers and assembly Companies for the procurement of parts and accessories (Completely Knocked Down (CKD) or Semi Knocked Down (SKD) parts) including equipment for meter manufacturing or production, as well as expansion of factory infrastructure.
3. That the Nigerian Customs Services (Customs) be encouraged to create dedicated desks or teams at the various ports to fast track the clearing of prepaid meters and components from the ports for improved and quick delivery. Adding that the Federal Ministry of Finance harmonize issues with Customs towards providing clarity on HS codes for uniform assessment with regard to meters, meters' parts and accessories.
4. That there should not only be an extension of waiver up to December 2022, but also that a change be made in the modalities for implementing the presidential waiver of 35 per cent levy on fully built prepaid meters. Adding that the list of all NERC approved MAPs benefiting from the levy waiver should be made available by NERC as well as Federal Ministry of Finance to Customs for proper circulation to specific commands.
5. That because MAP scheme is critical to the closing of the metering gap, combined Implementation of MAP and the National Mass Metering Programme, NMMP should operate alongside as MAPs are crucial to the attainment of the mass metering roll-out, having invested, built, and trained critical manpower and logistics for installation and management of prepaid meters.
6. That the Nigerian Electricity Management Services Agency, NEMSA drive a review of material requirements for the production of meter and metering components and accessories such as meter boxes, relays, to facilitate the utilization of available local materials aimed at increasing local input in the deployment of meters, thereby reduce foreign currency requirements.
7. That NERC urgently convene a roundtable meeting of all stakeholders in the metering sector, comprising the Federal Ministry of Power, Office of the Vice President, CBN, and the Federal Ministry of Finance, Budget and National Planning. Others include, the Federal Ministry of Industry, Trade and Investment, Customs, NEMSA, DisCos and MAP, or Meter Manufacturers and assembly Companies, to engage on the key recommendations.
It would be recalled that NERC had in mid 2019 promised that estimated electricity billing system would be a thing of the past by the end of 2021, with no fewer than 47 million meters according to them, to be installed for customers, which include homes and offices across Nigeria.
The Nigerian Electricity Regulatory Commission through one of its Commissioners Nathan Rogers Shatti, stated this during a short media briefing in Lagos on meter roll-out exercise under the Meter Asset Provider, MAP regulation of the Commission.
Nathan who reiterated the Commission's readiness to ensuring this target said a number of measures, both punitive and in form of incentives, were already on ground to achieve this target. Expressing displeasure over the inability of those licensed for this purpose to live up to their claims. And this according to him was inspite of the huge financial investment in the project by the Central Bank of Nigeria, CBN over the period.
Some of those measures which according to the Commissioner would include monitoring implementation through regular reporting from the MAPs and Discos on the deployment and installation process across every franchise area. Adding that NERC would be organizing regular stakeholders' workshops and meetings to get feedback on challenges and success stories, carry out regular visits to confirm actual installations, to materialize the dream. And more importantly, he said they would carry out customer surveys to get independent customer satisfaction and or dissatisfaction as this would enable quick resolution of any differences toward ensuring that program implementation was not derailed.
And how much of this would be done before the year peters out is better imagined than seen, having been provided for safe landing by the emergence of Covid-19.