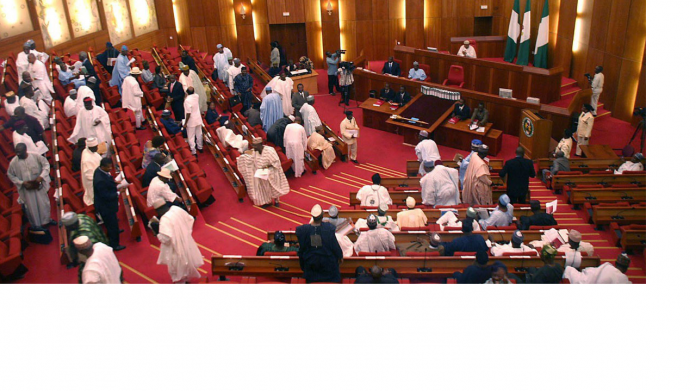 Reducing or eliminating incidence of accounting fraud in the Nigerian oil and gas sector, and or nipping in the bud the fuzzy method of administration, and or, application of revenue made from crude oil sales by governments, I mean government across party lines, is a herculean task whose solution does not lie in deploying automated data assessment machines like the Nigeria's Extractive Industries Transparency Initiative, NEITI officials wanted us to believe, but rests squarely in the ability of those who are in charge of governance to behave and act in a manner capable of eliciting trust and confidence.
Crude oil has been the raison d'être for the reality called Nigeria. Since the discovery and commercial exploitation of the huge hydrocarbon deposits within her shores almost seven decades now, so much hype has gone into the business that has contributed immensely in determining the status of the African 'Giant ' called Nigeria. From the oil boom of the 70s when it was brazenly alleged that a Nigerian Head of State openly confessed that Nigeria has so much money she doesn't know what to do with it, oil has not only been at the front burner, it has also been the feed stock of our social extravagance and fiscal recklessness.
It is public knowledge that one big challenge that came with the wind of oil exploration activities in Nigeria was "the more you look the less you see" business style of Nigeria's crude oil exploration and development partners. "They invented the scheme", says a foreign newspaper columnist, "but the local politicians who hosted them keyed into it, apparently without much knowledge of the hybrid network of intricate rules guiding that crucial business engagement, a pattern which the successive regimes of ultra crude and power-thirsty, homebred politicians eventually perfected into a weapon of economic terror on the collective psyche of the people, who unfortunately became subjects of manipulation as they yielded to the whims and caprices of the taskmasters of political and economic neocolonialism. This is the tragedy that now stares every true Nigerian in the face at the moment."
Nigeria is the most populous country within the Organization of Petroleum Exporting Countries, OPEC where she is already 50 years old as a member, with an estimated 208 million inhabitants, located on the Gulf of Guinea on Africa's western coast, and covers an area of about 924 thousand square kilometers, according to the British Accounting Review of 2019. Nigeria is Africa's largest crude oil producer, with oil production amounting to 101.4 million metric tons, in 2019. Angola and Algeria were trailing behind with 69.1 million and 64.3 million metric tons, respectively. Crude oil production in the overall, including crude oil, shale oil, oil sands, and NGLs, with regard to Africa, reached 399.1 million metric tons. Output of oil per day amounted to some 8.4 million barrels, all in the same year. In 2019, Nigeria was the largest crude oil exporter in Africa, selling more than two million barrels of oil daily to the international market. Angola also, as well as Libya, were coming behind, with an export volume of roughly 1.31 million and 1.03 million barrels per day, respectively. As at 2020, to digress a little, Libya was rated the richest in oil in Africa, accumulating 48.36 billion barrels of proved reserves. Nigeria came behind with reserves of 36.97 billion barrels of crude oil, while Algeria's reserves summed up to 12.2 billion barrels. North and West Africa's contribution to the global oil exports at the time in question was 10 percent of the total, says Julia Faria publication of March 2021.
The Nigerian oil and gas sector represents about 65% or more of government's revenue. The country holds almost 40 billion barrels of proven oil reserves according to OPEC, and about 29% of Africa's proven oil reserves, says NEITI. Maximum crude oil production capacity of 2.5 million barrels is usually reported to be recorded daily, as efforts are being made to achieve 4 million barrels daily oil production capacity according to Nigeria's petroleum ministry officials. The total revenue flow to the Federation, as well as other tiers and entities of government are derived from, among others, crude oil sales, taxes and royalties. For emphasis, and as reported almost daily, Nigeria sits as the 13tt largest in crude oil production, and within the first seven in gas production worldwide. Over the years, the Niger Delta, comprising the entire South-South and South-East of the country, has borne the brunt of consistent oil and gas exploration and production activities, hosting all the multinational oil exploration and service companies, as well as a number of local Independents, with little or nothing to show for the regrettably unhealthy and environmentally gaseous exposures.
From inception in her journey as a major oil producer, Nigeria has faced very critical challenges, which ranged from allegations of manipulation and falsification of daily crude oil production figures by IOCs, to abysmal failure by those in authority to also provide accurate statistic details on revenue generated daily from crude oil sales. It was this overall slippery nature of data collation, among other issues, that really kept the conversation of the Dr Orji Ogbonnanya Orji-led Nigeria Extractive Industries Transparency Initiative, NEITI, and the Philip Olu-led Association of Energy Correspondents of Nigeria, NAEC, alive during the brief introductory meeting.
The Nigeria Extractive Industries Transparency Initiative, NEITI, whose corporate values include, among others, legitimacy, integrity and openness, according to its Executive Secretary, Dr. Orji Ogbonnanya Orji, was established by an Act of the National Assembly in 2007, with the statutory mandate which can possibly be encapsulated within this three main objectives,
1. To ensure due process and transparency in the payments made by all extractive industry companies to the Federal Government and statutory recipients;
2. To ensure transparency and accountability by government in the application of resources from payments received from extractive industry companies and;
3. To ensure conformity with the principles of Extractive Industries Transparency Initiative. Again, all other duties and objectives as contained in the Act rested on these three key issues.
It was never meant to be an easy start for NEITI, reaffirms Dr Orji Ogbonnanya Orji, whose appointment as the new Executive Secretary of NEITI came a few days prior to the introductory meeting at Oriental Hotel in Lagos. He was in the company of his management team, to meet with the Philip Olu-led NAEC, a united group of energy editors and correspondents in Nigeria, who according to Dr Orji cannot be done without if NEITI would deliver on its mandate.
First, there were no proper laws governing crude oil exploration and production which started with the first commercial discovery in 1958, at Oloibiri in Bayelsa State. Besides, Nigeria was still struggling with the challenges of emancipation of its political economy from the clutches of colonialism at the time, and had just recorded the first commercial oil delivery whose profit margin also was better seen than imagined. A mother who places a large chunk of food before her little child shouldn't be surprised to see the child turn to her to seek an answer as to who the food is meant for. The money made from that first commercial transaction was mouthwatering that it was probably difficult for the homebred politicians at the time to hold back their excitement. Neither were they ready to probe further to know more and understand better all that were required, in terms of rules, surface and subterranean, to keep them in tune and abreast with crude oil exploration and production developments as they emerged. One of my lecturers never ceased to tell us about the dangers associated with the propensity, or sense of easy acquisition which the political man is, most oftentimes culpable of – the danger of the inherent capability to obliterate the mental and physical state of a man that he becomes ridiculously inactive and debased, a stage which Nigeria's governance situation seems to have graduated into.
NEITI may have been effective in strengthening public debate and promoting policy options around signature bonuses, unpaid royalties, crude oil and refined products thefts. They may also have identified several billions of dollars owed to the Federal Government and initiated ideas aimed at recovery, but how these revenues from crude oil sales have been administered by those in authority to provide some level of capacity and comfort to the average Nigerian, as well as give vibrancy to NEITI's primary objectives as enshrined in its Act 2007 2 (d) and (e), thereby assuage the general feeling of robbery and malfeasance,, especially in the recent time, is yet to be addressed.
There are concerns that NEITI has not done enough, and certainly has not lived up to public expectation, especially in providing comprehensive details on the administration of revenues derived from daily crude oil sales. However, the big question here is, what is NEITI, and who does it represent, and from where does it derive its funding? Is it not often said that "he who pays the piper dictates the tone?" The British Accounting Review had also, in one of its publications of September 2019, raised certain valid questions: First, whether it would not tantamount to setting up NEITI against itself by referring to it as a transparency, accountability and anti-corruption initiative in Nigeria, and whether, rather than promote transparency and enhance accountability, if increased information disclosure does not conceal and legitimize the weak and corrupt reporting systems and practices of agencies of government? NEITI is an agency of government by whose power the former either lives or dies. Of course a house cannot stand against itself. By controlling its funding therefore, does the government in power not also controls its operations? Shouldn't the popular servant-master dictum hold sway, particularly in a democratic environment of legislative incompetence and lawlessness? Transparency from all indications, is but a complex social process that only NEITI, as an independent financial institution, can possibly address.
Ejekwu Bonn Chidiebere