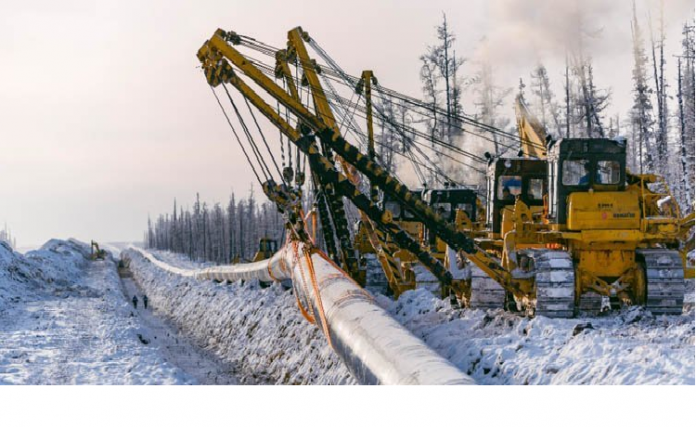 Russia's Gazprom and the China National Petroleum Corporation, CNPC have signed a new deal under which the Russian gas giant will deliver natural gas to China via the Far Eastern route, Gazprom said on as China and Russia make effort to strengthen their energy cooperation.
A long-term Sales and Purchase Agreement is expected to boost the amount of Russian gas supplies to China by 10 billion cubic meters annually, OilPrice reported the Russian gas giant as saying.
"The signing of this document is an important step towards further strengthening the mutually beneficial cooperation between Russia and China in the gas sector," says Gazprom, which also expects total Russian pipeline gas supply to China to reach 48 billion cubic meters per year, including deliveries via the Power of Siberia gas trunk line.
The agreement for the new pipeline, planned for takeoff in the next three years, will be settled in euros, an industry source in Beijing was reported to have told Reuters.
Russia is reported to have occasionally sent natural gas to China via pipeline running through the Power of Siberia, which became operational at the end of 2019.
"This is already a second contract to be signed for Russian gas supplies to China, indicative of the exceptionally strong mutual trust and partnership between our countries and companies. Our Chinese partners from CNPC have already seen for themselves that Gazprom is a reliable gas supplier," CEO Gazprom, Alexey Miller said, commenting on the just concluded deal.
Adding that while Russia is working to strengthen its energy ties with China, it is clearly in the opposite with the West which it has consistently accused of interference over its affairs with Ukraine. Meanwhile Gazprom, Russia's gas firm has continued to severe gas exports to Europe whose energy crisis is almost at its peak even as prices add to the already hopeless gas situation.
"Despite record-high natural gas production, Russia has not been sending much above its contractual obligations to Europe this winter season", report showed.
With OilPrice