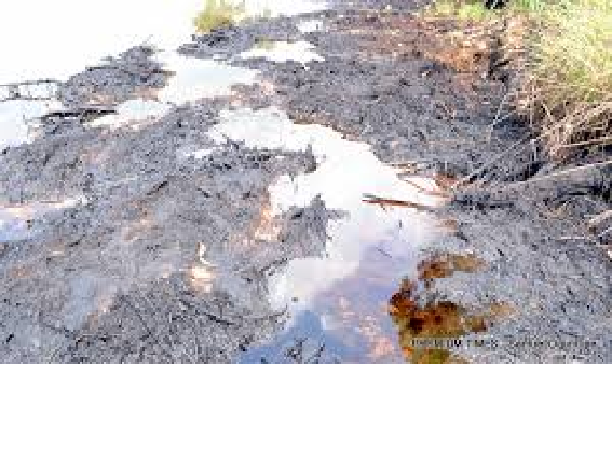 A fresh oil spill has been reported at the Oil Mining Lease, OML 59 operated by Conoil Producing Limited around the Angofield, near Tamazu settlements in Koluama Clan in the Southern Ijaw Local Government Area of Bayelsa State.
It was gathered that the incident occurred from the indigenous oil firm's wellhead 1 on January 30, and "was spewing crude oil in gaseous form from an elbow of a pipeline linked directly to the Ango wellhead 1."
According to Daily Independent Newspapers, crude oil and gas leaked in various quantities from the affected facility till February 2 when a team from Con¬oil mobilized to stop the spill, source said.
Source- Daily Independent
3 crew members of SEPCOL found alive, as groups allay fears of further spills
Meanwhile a vessel with a storage capacity of about two million barrels of oil has exploded off the coast of southern Nigeria's Delta state, raising more fears of environmental disaster.
Shebah Exploration & Production Company Ltd SEPCOL had raised alarm as flames engulfed one of its sea tankers known as Trinity Spirit, following a blast. The Floating Production, Storage and Offloading FPSO vessel was said to have crude oil processing capacity of about 22,000 barrels of oil a day, sources quoted the operator's website as saying.
"At this time there are no reported fatalities but we can confirm that there were 10 crewmen on board the vessel prior to the incident," SEPCOL Chief Executive Ikemefuna Okafor said in a statement.
An investigation was under way to determine the cause of the accident, he said, adding that the company was working to "contain the situation".
Meanwhile, the management says three crew members on board the fettered tanker have been found alive and receiving treatment at a hospital. They have also confirmed one dead body in the early hours of Sunday, February 6 whose identity is yet to be ascertained at the time of this report, while seven yet crew members are still missing at this time.
Oil spill fears
Again, Nigeria's regulatory agency for upstream operations, NUPRC, said the explosion had led to a "major fire" and that it had "commenced investigations into the incident".
"The commission will take necessary measures to ensure that all safety and environmental measures … to safeguard lives and the environment are put in place," spokesman Paul Osu said.
Idris Musa, Director, Nigeria's National Oil Spill Detection and Response Agency, NOSDRA, told the AFP news agency they were also on site responding to the incident.
Environmental activists were, however, worried about the potential impact.
"There will definitely be a spill," said Mike Karikpo of the local NGO, Environmental Rights Action and Friends of the Earth Nigeria.
"This is a facility that handles over 20,000 barrels per day … the oil will reach the surrounding communities", he said. Source- Al Jazeera.