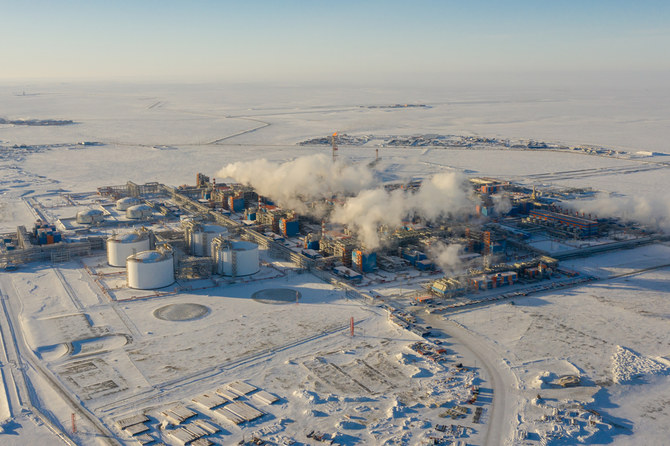 A lot more trouble for Vladimir Putin's Russia as economic activities are brought to a standstill, as companies and countries continue to vacate the country in numbers.
Italy says it has halted its share of the financing for the Arctic LNG 2 project, in solidarity with the Western companies and countries who are currently selling their stakes in Russian energy projects to condemn Russia's military invasion of Ukraine, even as sea tankers with Russian LNG to Europe change their course away from intended destination.
The Arctic LNG 2 project, estimated at $21 billion, and said to be just one of the many projects which have lost foreign backing as more sanctions and rejections continue to be meted out on Russia for its callousness.
Although the agreement to finance part of the project remains intact, reports say, the global move against Russia highlights just how much of a pariah the country has become on the world stage, with fears of worsening Russia's energy projects.
Arctic LNG 2 was destined to be up and running by 2023, reaching full capacity by 2026. Arctic LNG 2 is expected to produce 20 million tonnes of LNG annually.
In addition to Russia's Novatek, Arctic LNG 2 shareholders include TotalEnergies, CNPC, CNOOC, and Japan Arctic LNG. TotalEnergies, with a 10% stake, is one European oil major that has not decided to quit its Russian operations.
The report however added that the Arctic LNG 2 project had been in controversy even prior to the current face-off, even as the European Parliament had expressed worry that the project was not compatible with climate targets.
Meanwhile, Russia has failed to meet its estimated OPEC+ quota of 0.2 percent February oil production, hitting as low as more than 130,000 barrels per day, (bpd), Bloomberg was quoted to have reported from the Russian production data.
February was the third consecutive month in which Russia did not pump to its quota under the OPEC+ deal, after it started lagging in output levels in December 2021, for the first time since the April 2020 pact that put an end to a month-long price war with Saudi Arabia when COVID crippled global demand.
According to data from the Russian energy ministry in tons converted into barrels, Russia's crude oil production was around 10.095 million bpd in February, which was 132,000 bpd under its quota for the month, Bloomberg calculations was reported to have shown.
Stating that under the OPEC+ deal, Russia's quota for February was 10.227 million bpd, the same as Saudi Arabia's. The two leaders of the OPEC+ group have the privilege to add around 100,000 bpd each to their production every month as part of the 400,000-bpd monthly increases.
OPEC+ met though not to break from its plan to add 400,000 bpd to quotas each month, largely as expected, despite soaring oil prices amid Russia's invasion of Ukraine.
Crude oil price just a day or two ago continued its upswing as Brent, Nigeria's benchmark crude, rose above $113 per barrel for the first time in close to eight years. This was as the Organization of Petroleum Exporting Countries (OPEC) resolved to continue the addition of a measured volume of 400,000 barrels per day, agreed with its allies, OPEC+, in August last year.
The producers' group, which decided on the quota for member countries for April, allocated Nigeria 1.735 million barrels per day as its production for next month. But it remains doubtful whether Nigeria would be able to meet its allocation for the month, having consistently, for close to a year, been unable to supply the global market with its required volume.
Meanwhile, Muhammadu Buhari recently asked the National Assembly to approve the N2.557 trillion budget for petrol subsidy for 2022.