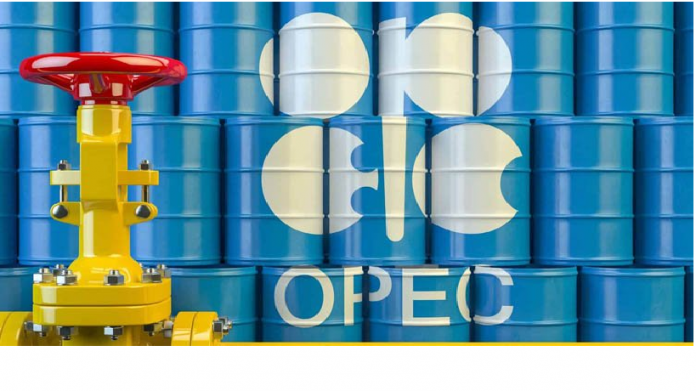 The Organization of Petroleum Exporting Countries, OPEC said Nigeria's crude oil production went down by 2.3 million barrels in July 2022, in comparison to the country's production in the preceding months, OPEC's data had shown.
OPEC had in its latest Monthly Oil Market Report for August 2022 stated that crude oil production figures based on direct communication, indicated that Nigeria's output dropped by an average of 74,000 barrels per day in July.
By implication, the country lost about 2.3 million barrels of crude oil within the 31 days in the month of July when the average cost of Brent crude, the global benchmark for oil during the period under review was selling for $105.12 a barrel.
It also means that by this loss 2.3 million barrels, Nigeria's revenue from oil sales fell by about $241.1m or N101.13bn (at the official exchange rate of N419.37/$) in the same month under review.
Data from OPEC showed that Nigeria's oil production in June 2022 was 1.158 million barrels per day, and dropping eventually to 1.084 million barrels per day in July.
It was also reported that in May, the country produced 1.024 million barrels per day, OPEC data also showed, as stakeholders of the industry continue to point fingers at the activities of sea pirates and oil thieves as key factors responsible for the poor production output, and this is also as Nigeria continues to run behind schedule in meeting its OPEC production obligation.
The CEO, Centre for the Promotion of Private Enterprise, Dr. Muda Yusuf, also blames insecurity as one of the key factors. Pointing out that investor indifference has resulted from the country's growing insecurity, and government's inability to match words with actions.
"Investors in the oil and gas sector continue to lament the challenges posed by insecurity, oil theft, unstable policies, and inappropriate fiscal regimes.
"The downstream sector has continued to be weighed down by the pricing regimes and the regulatory environments which have continued to dim the growth prospects in the sector", Muda Yusuf said.
Meanwhile crude oil prices dipped in July, as against their costs in June, with crude in OPEC Reference Basket dropping by $9.17 or 7.8 percent month-on-month in July to average $108.55 per barrel.
"Oil futures prices have remained highly volatile in July, amid a sharp drop in liquidity. The ICE Brent front month declined $12.38 or 10.5 percent in July to average $105.12 per barrel, and NYMEX WTI also witnessed a decline by $14.96 or 13.1 percent to average $99.38/barrel", report revealed.
In its August Oil Market Report OMR, the International Energy Agency, IEA also raised its estimates for 2022 global demand growth by 380,000 b/d, to 2.1 million b/d, as soaring oil use for power generation and gas-to-oil switching are boosting demand. Gains mask relative weakness in other sectors, and a slowdown in growth to less than 100,000 b/d by fourth-quarter 2022 from 5.1 million b/d at the start of the year. World oil demand is now forecast at 99.7 million b/d in 2022 and 101.8 million b/d in 2023, reports industry journals.
"At the same time, natural gas and electricity prices have soared to new records, incentivizing gas-to-oil switching in some countries. With several regions experiencing blazing heatwaves, the latest data confirm increased oil burn in power generation, especially in Europe and the Middle East but also across Asia. Fuel switching is also taking place in European industry, including refining. In this report, we have revised our forecast for world oil demand higher for the remainder of the year", IEA was quoted as saying.
World oil supply hit a post-pandemic high of 100.5 million b/d in July as maintenance wound down in the North Sea, Canada, and Kazakhstan. OPEC+ ramped up total oil production by 530,000 b/d in line with higher targets and non-OPEC+ rose by 870,000 b/d. World oil supply is set to rise by a further 1 million b/d by year-end.
In this report, EIA revised up its forecast for Russian oil output but lowered the outlook for North America. By July, Russian oil production was only 310,000 b/d below pre-war levels while total oil exports were down just 580,000 b/d. The EU embargo on Russian crude and product imports that comes into full effect in February 2023 is expected to result in further declines, as some 1 million b/d of products and 1.3 million b/d of crude would have to find new homes.
Russian oil exports fell by 115,000 b/d in July to 7.4 million b/d, from about 8 million b/d at the start of the year, the report noted. Crude and oil product flows to the US, UK, EU, Japan, and Korea have slumped by nearly 2.2 million b/d since the outbreak of the war, two-thirds of which have been rerouted to other markets, including India, China, Turkey, and others, IEA said. Export revenues fell from $21 billion in June to $19 billion in July, on both reduced volumes and lower oil prices.
Refinery throughputs rose by 1.1 million b/d in July and are set for a further 350,000 b/d gain this month, when runs will reach their highest level since January 2020. The increase was above refined product demand, driving cracks and refinery margins sharply below the all-time highs seen in June, the report said. Global refinery runs are now on track to rise by 2.6 million b/d in 2022 and 1.3 million b/d next year, reports have shown.