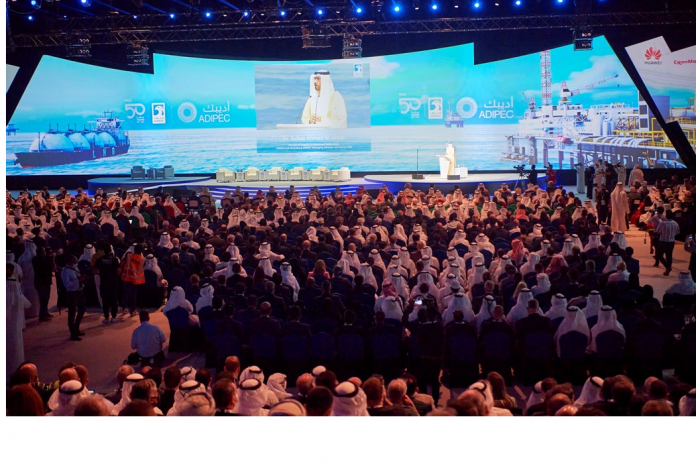 The die is cast, the eagles are about to gather, the energy transition debate is gathering so much waves whose direction in the interim seems more centripetal than centrifugal, even with a few unresolved issues – issues of developmental disequilibrium, hence the contention among countries that net-zero targets must be based on economic, infrastructural and or industrial development peculiarities of economies – all of these articulations are just part of a comprehensive whole – knitted together through  extensive and exhaustive research and consultation that cut across a wide spectrum of the global audience by the ADIPEC team working in conjunction with the global event organizers – dmgevents group.
Live and in person, from the 31st October until the 3rd of November 2022 in Abu Dhabi, UAE, the convention presents five key fundamentals upon which deliberations and arguments shall be predicated, geared towards accelerating the speed of consolidation on what should be a working template that takes into cognizance the concerns of both the developed and the developing economies on the ongoing global emission reduction or elimination debate.
With thousands of products and services spread across more than 2, 200 exhibition companies, which also comprise 54 NOGs, IOCs, NECs, IECs globally, who were equally reported to have expressed their readiness to provide unparalleled opportunities for buyers and sellers, the stage was therefore set for a heart-to-heart business engagements aimed at heralding a mutually-benefitting result.
Opportunities also abound as programmes have been compartmentalized to include what was called "specialized industry zones", billed to run parallel with the principal event. They include, offshore and marine zone, digitalization in energy zone, smart manufacturing zone, and of course, the "newly launched" decarbonization zone – all of which are intended to serve as platforms and vistas for new business opportunities across the entire spectrum of the energy industry. Meanwhile, more than 28 international exhibition pavilions have been established for the purpose of enhancing proper networking, and providing exceptional opportunities for all categories of industry players, toward a robust energy transition conversation.
"This year, ADIPEC 2022 will accelerate the energy transition, unlock real value in a decarbonized future, showcase ground-breaking technologies and explore actionable strategies and solutions to the challenges and opportunities created by the complex global energy market dynamics of today.
"Taking place pre COP27, ADIPEC 2022 is positioned as the global forum for leaders to reinforce strategies and commitments that will drive the industry towards reducing emissions and meeting net-zero goals.
"It is against this backdrop that the ADIPEC 2022 conference programmes are shaped, providing both strategic and technical insights that gather over 1,200 global policy makers, energy CEOs and industry professionals to discuss key trends shaping the future of energy; what are the challenges and opportunities of the energy transition, geopolitical factors, new finance and partnership frameworks and the latest technical developments."
Both the Strategic and Technical Brochures have been published and are available to download on the website, both the Strategic<https://www.adipec.com/conferences/strategic conference/> and Technical<https://www.adipec.com/conferences/technical-conference/