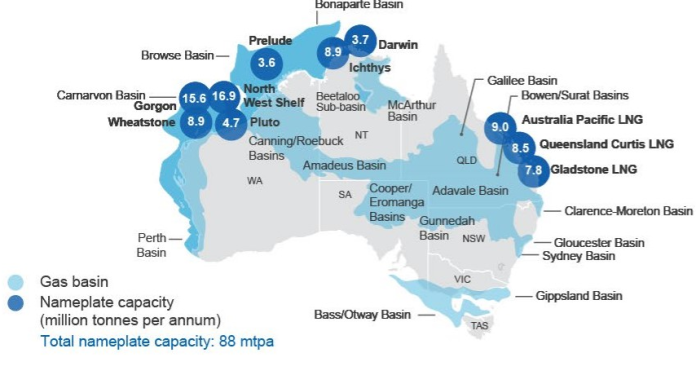 The Australian Government has proposed further changes to the country's Domestic Gas Security Mechanism that would give it the power to curb LNG exports from east coast producers, international oil and gas journal reported.
The proposed changes according to the report was coming on top of government moves to cap gas prices and impose a mandatory code of conduct on gas producers.
The report said the new proposal came in the form of draft guidelines for the gas security mechanism released recently by Resources Minister Madelaine King who was reported as saying that it was designed to balance the need to guarantee sufficient domestic gas supplies (to the east coast market) while safeguarding Australia's global reputation as a stable and reliable supplier of energy to regional parties.
The proposal which serves as a guide would ensure that every Australia's east coast LNG exporter obtains mandatory permission to export gas upon any signals of a potential or impending gas supply shortfall. "Effectively, the Federal Government (the Resources Minister) would hold power to decide how much LNG can be exported from Queensland's three LNG exporters every quarter."
The three plants (Shell-operated Queensland Curtis LNG, ConocoPhillips and Origin Energy-operated Australia Pacific LNG, and Santos-based Gladstone LNG) are based on Curtis Island near Gladstone.
Account showed that export permission would be based on how much gas an LNG producer had committed to the domestic market and its contribution to alleviate a forecast shortfall, adding that government could allow permit for an unlimited LNG export volume if it deems Australian consumers would not be affected by the shortfall, or it could impose a limit on exported volumes.
It said that LNG producers could apply to the Minister to increase allowable LNG exports to protect long-term LNG sales contracts, adding however that there would be no guarantee that those contracts would not be disrupted, suggesting that producers could trade gas with other parties or buy LNG on the global market to meet obligations.
Meanwhile no reactions from the east coast LNG producers or the industry in general have been recorded, but reported that analysts suggested the gas industry would have concerns about the potential power the Resources Minister could have over LNG export controls without realizing the impact and unintended consequences a decision to curb exports could have on trading partners.