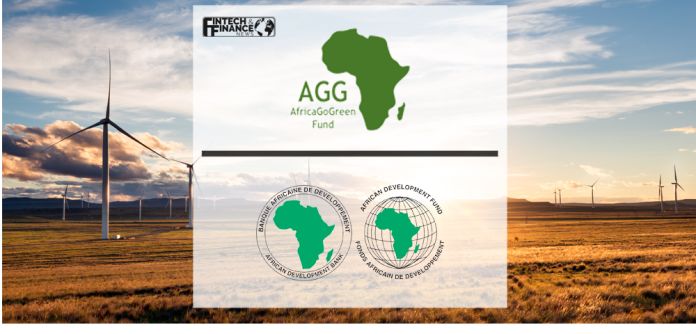 Funding that will allow AfricaGoGreen (AGG) broaden its financing for climate-friendly projects in Africa including purchasing high-efficiency appliances and industrial equipment has just received further impetus with the announcement by the AfricaGoGreen Fund (AGGF) of its successful second fundraising close, securing $47 million in combined investments from top financial organizations, including the International Finance Corporation (IFC), the African Development Bank (AfDB), the Nordic Development Fund (NDF), and the Sustainable Energy Fund for Africa (SEFA).
With particular attention as far as the funding is concerned are, purchasing high-efficiency appliances and industrial equipment, retrofitting existing buildings and new green buildings, and installing rooftop solar and battery storage for residential, commercial, and industrial consumers, stakeholders said in a statement.
Breakdown showed that IFC provided $17 million in equity, which includes financing from the IDA20 Private Sector Window Blended Finance Facility. This is in addition to $30 million equity IFC had committed in debt to the fund, which also provides AGGF with long-term capital to complete the second close fundraise.
The African Development Bank, the Nordic Development Fund and the Sustainable Energy Fund for Africa each invested $10 million in equity, with an additional $10 million in debt from Calvert Impact Capital was closed in December 2022.
Launched by KfW on behalf of the German Federal Ministry for Economic Cooperation and Development (BMZ) in early 2021 and managed by LHGP Asset Management, AGGF is the first structured debt fund in Africa focused on energy efficiency solutions. The fund targets reaching between $230 million and $250 million at final close.
Adding that with the fundraising round, total funding now stands at $138 million, which according to the statement, was a demonstration that the fund was getting traction to reach its full scale.
It said that AGGF would be accompanied by a technical assistance facility of $3.3 million from KFW on behalf of BMZ, which also supports project development and market studies, and providing transaction advisory and capacity building to stakeholders. It said that since 2021 AGGF fully came into operation, it has provided financing to AktivCo, a telecom energy services company, to develop clean energy solutions for powering telecommunication towers in Burkina Faso, Cameroon, Chad, Côte d'Ivoire and Niger, and to BBOXX, a pay-as-you-go solar-powered solutions provider, to accelerate access to clean cooking solutions for millions of Africans.
Even more recently, AGGF closed the Solarise transaction investing in energy-efficient appliances in Kenya, South Africa and Mauritius, and upsized both the AktivCo and BBOXX transactions.
"KfW is glad to welcome the new investors to the AfricaGoGreen Fund, which was initiated with seed capital from the German Government. We hope that more like-minded investors will follow. This successful second fundraising demonstrates that the fund is on track to play a crucial part in the just energy transition in Africa," said Johannes Scholl, Head of Division at KfW.
"IFC is partnering with AfricaGoGreen because its innovative energy efficiency focus is making critical capital available to businesses that are supporting the region's energy transformation while also expanding access to electricity, green building, and e-mobility solutions," says Henrik Elschner Pedersen, IFC Regional Industry Director in Africa for Manufacturing, Agribusiness, and Services.
"With great pride, the African Development Bank and the Sustainable Energy Fund for Africa united other investors with the same ambition to build a more climate-resilient Africa and support the decarbonization of African countries. We look forward to seeing other like-minded development institutions and commercial investors join us in fighting the detrimental impacts of climate change on the continent," Dr. Daniel Schroth, Director of the Renewable Energy And Energy Efficiency Department said.
Henrik Franklin, Director for Portfolio Origination and Management, Nordic Development Fund, said: "Increasing access to clean and affordable energy in Africa is key for achieving the SDGs and enhancing climate resilience. AGGF is a trailblazing initiative to promote energy efficiency, not only through financing, but also by strengthening the enabling environment through capacity-building and developing regulations.
NDF is a proud early-stage and catalytic investor in AGGF and looks forward to joining forces with AfDB, KfW, IFC, SEFA, Lion's Head and other partners to deliver climate action," Franklin said.
"With AGGF, we are breaking new ground in supporting the African climate transition. The urgency of combating global warming forces all of us to leave no stone unturned to reduce C02 emissions. This is precisely what AGGF has been set up to do. Having such a strong group of investors shows broad alignment on the objectives of AGGF. We are proud to be given the opportunity to meet the tasks and challenges ahead of us," said Clemens Calice, CEO of LHGP.
KfW is one of the world's leading promotional banks which has been committed to improving economic, social and environmental living conditions across the globe on behalf of the Federal Republic of Germany and the federal states since 1948. This it has done by providing funds totaling EUR 166.9 billion in 2022 alone. Its financing and promotional services were also said to align with the United Nations' Agenda 2030 and contribute to the achievement of the 17 Sustainable Development Goals.
IFC—a member of the World Bank Group—is the largest global development institution focused on the private sector in emerging markets, working in more than 100 countries, known for its capital, expertise, as well as influential in creating markets and opportunities in developing countries. In fiscal year 2022, IFC was reported to have committed a record $32.8 billion to private companies and financial institutions in developing countries, leveraging the power of the private sector to end extreme poverty and boost shared prosperity as economies grapple with the impacts of global compounding crises. For more information,
The African Development Bank Group is Africa's premier development finance institution. It comprises three distinct entities: the African Development Bank, the African Development Fund (ADF) and the Nigeria Trust Fund (NTF). It already operates in 34 African countries.
SEFA is a multi-donor special fund that aims to unlock private sector investments that helps to provide universal access to affordable, reliable, sustainable, and modern energy services for all in Africa, in line with the Bank's New Deal on Energy for Africa strategy and Sustainable Development Goal 7. For more information:
The Nordic Development Fund (NDF) is the joint Nordic international finance institution of the five Nordic countries: Denmark, Finland, Iceland, Norway, and Sweden. NDF focuses on the nexus between climate change and development in lower-income countries and countries in fragile situations.